On Sunday, May 2, the astronauts of NASA's Crew-1 mission returned to Earth in a parachute-assisted splashdown at 2:56 a.m. EDT off the coast of Panama City, Florida. Crew-1 launched on November 15, 2020, aboard the Dragon Spacecraft named Resilience and spent nearly six months on the International Space Station. NASA astronauts Michael Hopkins, Victor Glover, and Shannon Walker, along with Soichi Noguchi of the Japan Aerospace Exploration Agency made the first nighttime splashdown since the return of Apollo 8 in December,1968. It was also only the second NASA splashdown since 1975. The current crew on the I.S.S., Crew-2, are scheduled to splashdown in late October 2021. The next Crew Dragon flight, Crew-3, is currently planned to travel to the I.S.S. in October of 2021.
The Crew-1 splashdown comes just days before the 60th anniversary of the first American in space and the first capsule splashdown with a human aboard. On May 5th, 1961, astronaut Alan B. Shepard became the first American in space aboard the Mercury Spacecraft named Freedom 7. Shepard was a naval aviator and test pilot who was selected as one of NASA's original Mercury 7 astronauts in 1959.
The flight used a Redstone rocket and was sub-orbital, lasting only 15 minutes in duration. Shepard tested out the spacecraft's attitude control systems during the five minutes of weightlessness he had at the top of the trajectory. The Mercury Spacecraft reached an altitude of 116.5 statute miles before returning to Earth by parachute and splashing down 303 miles downrange in the Atlantic Ocean. It would not be until February 1962 that NASA would put an astronaut in orbit equaling the flight of cosmonaut Yuri Gagarin on April 12, 1961. Shepard's successful flight did pave the way though for the United States to enter the space race.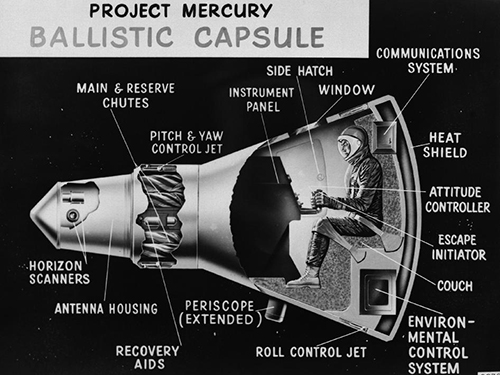 Alan Shepard would not fly again until nearly ten years later. In February 1971 he commanded the third successful lunar landing, Apollo 14. He was the only one of the original Mercury 7 astronauts to walk on the Moon.
To read more about Apollo 14 mission to the Fra Mauro Formation check out this article: https://www.ccssc.org/apollo-14/