On Sunday, November 15th, the Crew Dragon Capsule Resilience lifted off from the Kennedy Space Center in Florida with a crew of four headed to the International Space Station. The flight had originally been scheduled for Saturday the 14th, but was postponed because of weather concerns. The launch of the Space X Crew-1 Mission with astronauts Shannon Walker, Victor Glover, Mike Hopkins, and Soichi Noguchi marked the first ever capsule spacecraft flight with four people. Previous capsule designs including Apollo and Soyuz were flown with a maximum of only three people. This mission also marked the first operational flight of the Crew Dragon Capsule after the successful Crew Dragon Demo 2 test flight with Doug Hurley and Bob Behnken that splashed down on August 2, 2020. The Crew One Mission is only the second flight of astronauts from United States soil since the final flight of Shuttle Atlantis in July 2011.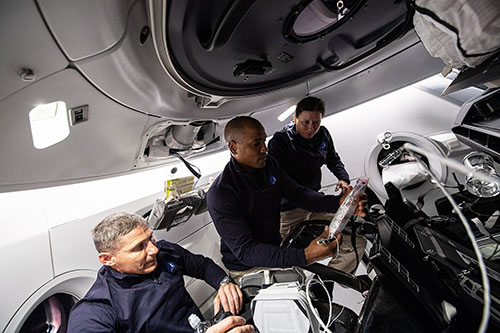 The Resilience reached the International Space Station after a 27-and-a-half-hour flight. The spacecraft docked on autopilot with the station's Harmony module at 11:01 p.m. EST Monday. The additional four crew members join cosmonauts Sergey Ryzhikov, Sergey Kud-Sverchkov, and astronaut Kate Rubins. They had previously launched on a Soyuz Spacecraft on October 21, 2020. This marks the first I.S.S. expedition that will include seven crew members. Previous missions were limited to six crew because each Soyuz can only carry three people, and only two Soyuz spacecraft were docked at the station at any one time. The additional crew will allow for more experiments and scientific research in areas such as botany, cancer, and new technology.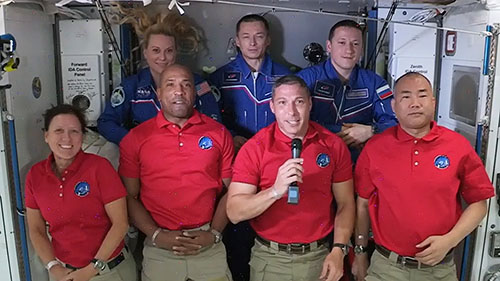 The four members of the Crew-1 mission are scheduled to remain on board the station for nearly six months. The Resilience will remain docked to the station and tested for the full length of a long duration space station expedition. The crew will return to Earth and splashdown in the Resilience in early May 2021. The next launch of a Crew Dragon Capsule is currently scheduled for April 2021. This will be the second flight of the Endeavour Crew Dragon that flew with Hurley and Behnken in May 2020. Like the Space Shuttle, the Space X Crew Dragon Capsule is reusable and each one is scheduled to make multiple flights. With the first operational flight of the Crew Dragon now underway, the future of the Commercial Crew Program and the International Space Station look promising for years to come.