CCSSC will be closed Saturday, Jan. 15 and Monday, Jan. 17. We will reopen Tuesday, Jan. 18.
Mon - Fri: 10am - 4pm Sat: 10:30am - 5pm Sunday: Closed
Adults: $8 Military/Seniors: $7 Children (4-10): $6
Hours
Mon -Fri: 10 am to 4 pm
Sat: 10:30 am to 5 pm
Sun: Closed
Booking Cost
Adults: $8
Military/Seniors: $7
Children (4-10): $6
Under 3: Free
Address
701 Front Ave.
Columbus, GA 31901
Mission Info
706.649.1477
info@ccssc.org
Welcome Space Explorers
We, the staff at the Coca-Cola Space Science Center, love space! We cannot wait to share our enthusiasm with you. We are open Monday through Saturday.  We suggest ticket purchases in advance here. Walk-ins are welcome based on availability. Please see below for tour and planetarium show schedules. To fully enjoy our museum, make sure you plan time for:
Sky tour and planetarium show in the Omnisphere Theater
Staff-led tour of Georgia's largest collection of NASA Space Shuttle artifacts
A flight to the ISS aboard Space Shuttle Odyssey
Test your piloting and driving skills on interactive exhibits
Explore exhibits featuring Apollo memorabilia
Buy some swag at Stargazers Giftshop

Omnisphere Theater Shows
Earth, Moon, & Sun
Coyote has a razor sharp wit, but he's a little confused about what he sees in the sky. Join this amusing character (adapted from American Indian oral traditions) in a fast-paced and fun fulldome show that explores lunar phases, eclipses and other puzzles. Engaging and immersive, Earth, Moon & Sun™ also examines how humans learn through space exploration.
This show may appear as the special presentation M-F at 10am or 12pm.
Super Volcanoes
Feel the heat! Super Volcanoes explores rare types of volcanic eruptions that marshal the energy that lurks, like a sleeping dragon, beneath the surface of planet Earth. The story of these big blow outs is a tale of havoc and mayhem; mass extinctions, climate collapses, and violence beyond anything humans have ever witnessed. Audiences will explore the impact of volcanism on Earth and other worlds in our solar system. This show may appear as the special presentation M-F at 10am or 12pm.
Unveiling the Invisible Universe
It is not only light that can reveal our cosmos.
Neutrinos and cosmic rays also provide vital information. And now, the detection of gravitational waves from two merging black holes has opened a new window to the universe. Come and see the cosmos as revealed by all these different messengers.Showtimes: Monday – Friday: 1:30pm, Saturday: 1pm & 3pm.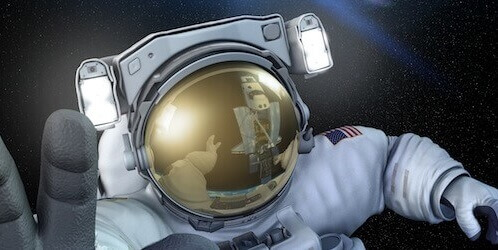 Astronaut
Experience a rocket launch from inside the body of an astronaut. Explore the amazing worlds of inner and outer space, from floating around the International Space Station to maneuvering through microscopic regions of the human body. Explorers get to meet "Chad," our experimental astronaut and watch him endure the perils that lurk in space.
Showtimes: Monday – Friday: 3pm. Saturday: 12pm & 2pm & 4pm. 
In My Backyard (Weekly Children's Show)
Welcome back Fred Penner from TV's Nickelodeon as he explores things large and small: from the colors of the rainbow, to reasons for the seasons and the stars at night. In My Backyard is especially designed for the youngest stargazers.
Showtime: Saturday at 11 am
Shows subject to change without notice.
701 Front Ave. Columbus, GA 31901
Per University System of Georgia policy, vaccinated people are no longer required to wear masks on Columbus State University's campus. Staff members are not allowed to ask guests whether or not they are vaccinated.
Due to the current public health crisis, we have altered our operations to create a safe environment for our guests and staff. To assure social distancing and proper sanitation measures, will be engaging smaller groups of visitors, on a much more intimate and in-depth level, with timed experiences. This new mode will allow guests to explore the Center more safely. Please read all the information carefully so that you will know what to expect.
---
Please do not visit the Coca-Cola Space Science Center if you are sick, exhibiting fever, or experiencing any symptoms of COVID-19. Guests exhibiting these symptoms will not be permitted to enter the CCSSC.
Wear a mask or proper face covering at all times.
Maintain social distancing (6 feet of distance, no handshakes or physical contact) while inside the facility.
Signage reminding visitors of proper precautions, including wearing face coverings and maintaining 6-foot social distancing, is posted upon entry and throughout the facility.
A maximum number of guests are permitted inside the Center so that proper social distancing can be maintained.
Common surfaces and touchpoints are disinfected regularly.
Hand sanitation stations are posted throughout the gallery for guest use.
Interior signage is in place on floors and at ticket & gift shop counters as a reminder of proper social distancing protocol for patrons who are waiting in line.
Restrooms are cleaned and disinfected regularly.
Where theater seating occurs, non-cohabiting patrons must be seated at least six feet apart.
---
CCSSC sanitation and safety protocols are aligned with those of Columbus State University and the University System of Georgia. They also have been developed under advisement from the American Alliance of Museums and the Association of Science and Technology Centers.